Contents
INTRODUCTION
PREFACE
I THE WOMEN OF THE GOSPEL NARRATIVE The study of the early Christian women takes up a phase of the history of woman which is peculiar to itself. It is
Our Tract Ministry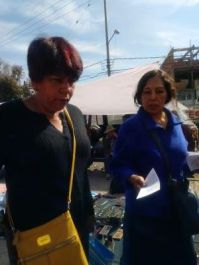 This
page
describes our tract ministry, including tract production (printing and folding). Our ministry is not that big yet, but we continue to grow. We have about 350 Spanish titles and 90 English titles and are adding translations into other languages. Please read this page and pray for this ministry.
II THE WOMEN OF THE APOSTOLIC AGE
III THE ERA OF PERSECUTION
IV SAINT HELENA AND THE TIME OF CONSTANTINE
V POST-NICENE MOTHERS
VI THE NUNS OF THE PRIMITIVE CHURCH
VII WOMEN WHO WITNESSED THE FALL OF ROME
VIII WOMEN OF THE FRANKISH CHURCH
IX THE EMPRESS EUDOXIA From the story of Christian Womanhood in Old Rome on the Tiber we pass naturally to the story of Christian Womanhood in that New Rome on the Bosporus
X THE RIVAL EMPRESSES–PULCHERIA AND EUDOCIA
XI THE EMPRESS THEODORA
XII OTHER SELF-ASSERTING AUGUSTAE–VERINA, ARIADNE, SOPHIA, MARTINA, IRENE
XIII BYZANTINE EMPRESSES THEODORA II., THEOPHANO, ZOE, THEODORA III.
XIV THE PRINCESSES OF THE COMNENI
XV WOMANHOOD OF THE BYZANTINE DECADENCE