Westminster Leningrad Codex 
From Wikipedia.org
The Leningrad Codex (or Codex Leningradensis) is the oldest complete manuscript of the Hebrew Bible in Hebrew, using the masoretic text and Tiberian vocalization. It is dated AD 1008 (or possibly AD 1009) according to its colophon. The Aleppo Codex, against which the Leningrad Codex was corrected, is several decades older, but parts of it have been missing since 1947, making the Leningrad Codex the oldest complete codex of the Tiberian mesorah that has survived intact to this day.
In modern times, the Leningrad Codex is most important as the Hebrew text reproduced in Biblia Hebraica (1937) and Biblia Hebraica Stuttgartensia (1977). It also serves scholars as a primary source for the recovery of details in the missing parts of the Aleppo Codex.
Our Tract Ministry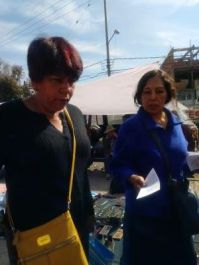 This
page
describes our tract ministry, including tract production (printing and folding). Our ministry is not that big yet, but we continue to grow. We have about 350 Spanish titles and 90 English titles and are adding translations into other languages. Please read this page and pray for this ministry.