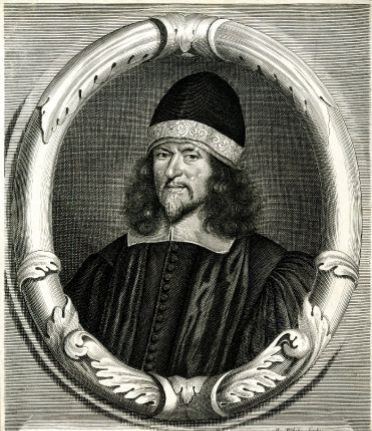 Thomas Goodwin, known as 'the Elder', was an English Puritan theologian and preacher, and an important leader of religious Independents. Thomas Goodwin served as chaplain to Oliver Cromwell, and was imposed by Parliament as President of Magdalen College, Oxford, in 1650. Christopher Hill places Goodwin in the "main stream of Puritan thought".
Contents of Works of Thomas Goodwin
Volume 1: Exposition of Ephesians Chapter 1
Volume 2: Exposition of Ephesians 2:1-11, An Exposition of Various Portions of Ephesians, Patience and Its Perfect Work
Volume 3: An Exposition of Revelation, A Child of Light Walking In Darkness, The Return of Prayers, The Trail of A Christian's Growth — The Vanity of Thoughts
Volume 4: Christ Set Forth, The Heart of Christ In Heaven Towards Sinners On Earth, Aggravation of Sin, Encouragements to Faith, The Glory of The Gospel, The Knowledge of The Father and His Son Jesus Christ
Volume 5: Of Christ The Mediator, Supereminence of Christ Above Moses, Reconciliation of The People of God By Christ's Death, The One Sacrifice, Reconciliation By The Blood Of Christ, Three Sermons on Hebrews Chapter 1:1,2,
Volume 6: The Work of the Holy Ghost In Our Salvation
Volume 7: Of the Creatures, and the Condition of Their State By Creation, Of Gospel Holiness in the Heart and Life, Of the Blessed State Which the Saints Possess After Death, Three Several Ages of Christians In Faith and Obedience, Man's Restoration By Grace, On Repentance
Volume 8: The Object and Acts of Justifying Faith
Volume 9: A Discourse of Election, A Discourse of Thankfulness
Volume 10: An Unregenerate Man's Guiltiness Before God
Volume 11: The Constitution, and Government of the Churches of Christ
Volume 12: Sermons and Notes of Sermons, Indexes – Thomas Goodwin was a massive theologian and a true Biblicist.