New World Translation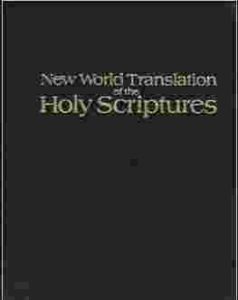 New World Translation
By Jehovah's Witness Organization
This is the New World Translation of the Bible, the official version of the Jehovah's Witnesses, and it was submitted to me by a website visitor.
Quite frankly I doubt that there is a definite translation for the Jehovah's Witnesses. As they combat many who point out that their doctrines and practices are not biblical, they make changes accordingly to their Bible translation to help their case as it is very obvious that the Bible does not support their doctrines. Specifically they attack the deity of Jesus Christ, and this is persuasive in Scripture, and so every time they come across a new argument, they adapt and change without warrant the Bible to support their organization.
The New World Translation is the translation done by the organization, Jehovah's Witnesses. Many criticize this as being a work-over to remove objectionable parts out of their Bible.
John 1
1 In the beginning was the Word, and the Word was with God, and the Word was a god. 2 This one was in the beginning with God. 3 All things came into existence through him, and apart from him not even one thing came into existence.What has come into existence 4 by means of him was life, and the life was the light of men. 5 And the light is shining in the darkness, but the darkness has not overpowered it.
Articles about the errors in the New World Translation
http://www.bible-researcher.com/metzger.jw.html
http://www.jesus-is-savior.com/False%20Religions/Jehovah%20Witnesses/new_world_translation.htm
http://www.gotquestions.org/New-World-Translation.html
http://www.evangelicaloutreach.org/nwt.htm
http://www.equip.org/article/getting-over-the-hurdles-of-the-new-world-translation/
https://carm.org/religious-movements/jehovahs-witnesses/bad-translations-jehovahs-witness-bible-new-world-translation