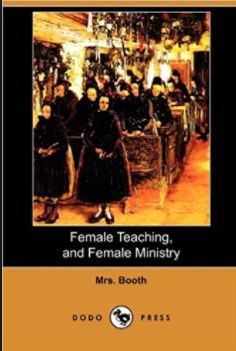 Female Ministry
Female Ministry
By Catherine Booth
Female Ministry or Women's Right to Preach the Gospel is a single chapter work on why women should be fully expected to preach and teach the gospel.
Contents of Female Ministry
Preface
Female Ministry
Preface
The principal arguments contained in the following pages were published in a pamphlet entitled Female Teaching, which, I have reason to know, has been rendered very useful.
In this edition all the controversial portions have been expunged, some new matter added, and the whole produced in a cheaper form, and thus, I trust, rendered better adapted for general circulation.
Our only object in this issue is the elicitation of the truth. We hold that error can in the end be profitable to no cause, and least of all to the cause of Christ. If therefore we were not fully satisfied as to the correctness of the views herein set forth, we should fear to subject them to the light ; and if we did not deem them of vast importance to the interests of Christ's kingdom, we should prefer to hold them in silence. Believing however that they will bear the strictest investigation, and that their importance cannot easily be over-estimated, we feel bound to propagate them to the utmost of our ability.
In this paper we shall endeavour to meet the most common objections to female ministry, and to present, as far as our space will permit, a thorough examination of the texts generally produced in support of these objections. May the great Head of the Church grant the light of His Holy Spirit to both writer and reader.