How to Download one of our modules
By David Cox, Webmaster
First, you need to go to the page of the work you are interested in downloading.
example: https://www.eswordlibrary.com/systematic-theology/berkhof-louis-systematic-theology/
Helpful Note: We have Google Ads on our website, so they may show up anywhere. Many of these have the words "Download" in a button. DO NOT CLICK ON THESE except if you want to go see the ad. But clicking on a Google Ad button WILL NOT GET YOU THE MODULE WE ARE OFFERING! That link is at the bottom of the post or page. I will show you what that looks like below.
An Example of Google

Second, you need to scroll down to the bottom of the page to the download link.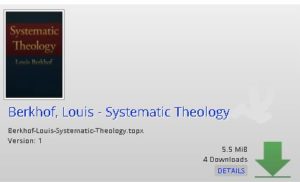 Actual Working Download Link of this Module
[wpfilebase tag=file id=7553 /]
You can click on Details and many times we have some brief information about the module here also. See in the post/page for more information.